SIMPLE AND EASY: WE MANAGE EVERYTHING
Our exceptional transport service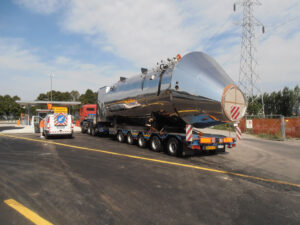 Planning an exceptional transport operation is a complex activity that requires great skills and experience.
There are many variables to consider: from planning the route, taking into account all the vehicles involved and the characteristics of the roads to be travelled, to the presence of bridges with relative assessment of their capacity or any obstacles, including temporary ones (works in progress, road narrowing, etc.), to assessing the traffic and best times, the need for special escorts, and of course the choice of the correct lifting equipment at departure and destination.
An extremely important and costly part in terms of time and resources is the fulfillment of all the bureaucratic procedures, which may vary depending on the technical specifications of the transport, the route chosen, and the countries involved.
We want our exceptional transport service to be simple for the customer, and we offer a turnkey service covering all stages of the activity.
Tell us what you need to transport, from where to where, and the period: we take care of the rest.
Entrust your transport to us with confidence and we will carefully and attentively follow all stages, from planning to on-time delivery to destination.
Contact us for a project evaluation and we will find the best solution.
Do you need to carry out an exceptional transport? Contact us, we will plan the entire operation.

MOTORSCAVI S.r.l.
Via Modena, 66
40017 San Giovanni in Persiceto (BO) – Italy
VAT IT 00501941207